Sustainable Solutions
Nathalie Flury and Michael Schröter on how HSBC's Global Equity Sustainable Healthcare fund addresses key challenges
16 November 2021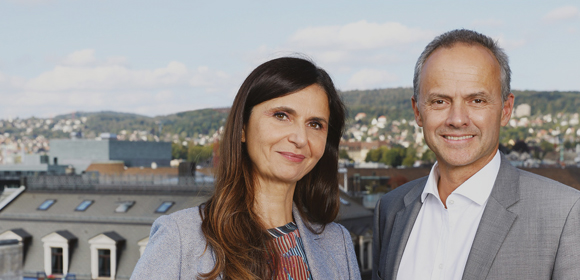 Investment Profile

Healthcare stocks fell less than the wider global equity market and rebounded faster from the stock market rout triggered by Covid-19 in February and March 2020. It may seem unremarkable that healthcare investing proved a good place to be amid a global pandemic, but the longer-term picture is even more encouraging.
The healthcare sector has consistently outperformed the broader market over longer timeframes, driven by demographic trends such as an aging population, rising middle class and chronification of diseases.
Over the past 10 years, the MSCI World Healthcare index has risen 347%, outperforming the MSCI World index in sterling terms by 82 percentage points. Since the healthcare index began almost 27 years ago, it has soared 1,784%, outperforming global equities by 982 percentage points.
'This is a sector that over the mid- to long-term has consistently outperformed the broader market,' said Michael Schröter, Co-Head of Sustainable Healthcare Equity at HSBC. 'There's a continued need for new products and services, which makes it an interesting sector to invest in.'
Alongside its defensive characteristics, healthcare investing is benefiting hugely from secular growth trends. Increasing demand for healthcare services translates into strong earnings growth. At the same time, however, rising costs threaten the affordability of healthcare and make investing in the companies innovating to stave off a looming healthcare crisis an investment in society.
'The biggest challenge to the sustainability of the healthcare sector is rising healthcare costs,' said Schröter. 'Both from a societal but also from a business perspective, companies need to respond to that challenge so that their products and services meet these new customer needs.
'In the past, customer needs have been predominantly clinical – better clinical outcomes for patients. Patients still want to have increased clinical benefits but healthcare needs to remain affordable. The way to make it affordable but still profitable is to help reduce overall healthcare spend.'

Global Healthcare Challenge
Healthcare spending has outpaced economic growth for years. In the last decade, it has almost doubled and now represents 18% of gross domestic product in the US (according to data from Statista) and 9-13% across Europe (according to the OECD).
'This is the problem that has to be tackled and we are searching for companies that bring a solution to the table,' said Nathalie Flury, Co-Head alongside Schröter.
'We are not only investing in companies that develop drugs; we're also investing in sub segments of the healthcare space, such as medical devices, diagnostics, digital and service companies.'
'We want to see innovation across the value chain to provide an improvement over the current standard of care in the market, but we also want to see from health economics data that these solutions can reduce healthcare costs overall.'
There are many ways in which companies can deliver a clinical benefit while reducing total healthcare spend – from disease prevention and cure instead of treatment and chronification to a reduction in hospitalisation, hospital readmission and recovery times.
Being able to diagnose and treat a disease early can lead to a very different clinical outcome and, crucially, significant cost savings for those footing the bill for healthcare provision, whether governments or medical insurers.
One company that the managers like is Guardant Health, a market leader in early and non-invasive cancer diagnosis, which grew its revenues by an estimated 28% in its last financial year. To match cancer patients with the best treatments, the company's FDA-approved Guardant360 diagnostic test provides oncologists with comprehensive genomic results from a simple blood sample. This liquid biopsy overcomes some of the limitations of traditional tissue biopsies.
Furthermore, Guardant Health is developing a liquid biopsy test that aims to detect early-stage colorectal cancer from a blood sample instead of a colonoscopy. The market opportunity for liquid biopsy in the US alone is estimated at $6bn.
Diabetes treatment is another area of growing clinical need where innovation is exerting downward pressure on costs. Flury gave the example of combining minipumps with continuous glucose monitoring systems for diabetes sufferers.
'The loop between the information of the glucose level and the pump means that patients receive the exact volume of insulin needed,' she said. 'There is data that shows these patients are much better monitored, use less insulin and have fewer diabetic complications arising over time.
'Not only are they better cared for, but it's cost effective and reduces the healthcare cost for every single patient.'
Making Healthcare Sustainable
Newspaper headlines around the world allude to the unsustainability of rising healthcare costs. As medical costs continue to grow, a basic social need becomes inaccessible to much of the population, whether through governments restricting access or medical insurance premiums rising.
In the UK in February, the National Institute for Health and Care Excellence rejected a breast cancer drug for routine use by National Health Service patients in England on cost grounds.
The decision was reversed in August after a discount was agreed with the manufacturer.
Meanwhile, in the US, which lacks a universal healthcare system, more than 40% of patients missed a treatment dose last year due to cost or other factors.
To make healthcare systems sustainable, Schröter stresses that they must work for all stakeholders – patients, doctors, payers, companies and investors.
'It has to work for the whole system, be those payers, patients, physicians, as well as industry and investors,' he said. 'If it doesn't work for one stakeholder, it won't be sustainable and won't last over time.'
The field of antibiotics is testament to that. The World Health Organization has warned that declining private investment and lack of innovation in the development of new antibiotics are undermining efforts to combat drug-resistant infections.
'We need to have new, innovative treatments to fight bugs but it also needs to be profitable for companies and investors to invest in and to conduct R&D [research and development] – one of the current challenges in the antibiotics space,' added Schröter.
'We need to have novel ways to incentivise companies and investors while making sure that new treatments remain affordable in order to benefit everyone – patients, payers and society at large. That's what will make healthcare sustainable.'
Sector Overview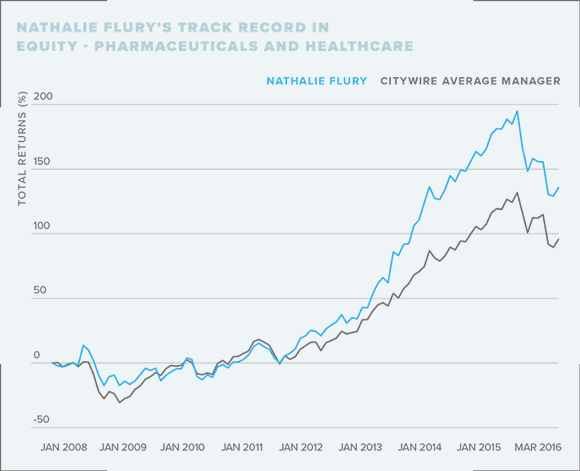 Nathalie Flury has enjoyed a lengthy and successful career running healthcare funds. Prior to the launch of the HSBC Global Equity Sustainable Healthcare fund in July 2021, she managed funds for GAM, Julius Baer and Pictet. Of particular note was her performance in the middle of the last decade. During a significant boom for the healthcare industry from September 2011 to July 2015, she generated returns of 195%, compared with 133% for the average manager in the sector.
SOURCE: Citywire Discovery, as at 31 August 2021. Performance is based on total return in USD calculated gross of tax, bid to bid, ignoring the effect of initial charges and with income reinvested at the ex-dividend date. Average manager is the based upon the managers tracked globally in Citywire's Equity - Pharmaceuticals and Healthcare sector.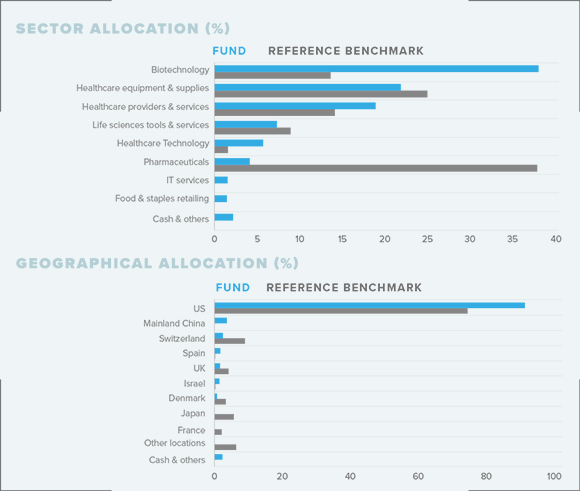 SOURCE: HSBC Asset Management as at 31 August 2021. Reference Benchmark: 100% MSCI World Healthcare Index (USD)
The portfolio is significantly overweight biotechnology stocks, relative to the reference benchmark, with more than a third of the portfolio dedicated to them. This overweight to biotechnology makes sense as the fund is seeking innovative companies to tackle rising healthcare costs and much of the innovation within the healthcare space comes from biotechnology companies. This has come at the expense of pharmaceuticals companies, which make up 4% of the fund versus 38% of the index. When looking at the top 10 holdings, it is immediately apparent that none of the major pharmaceuticals companies are present.
Geographically, their stock selection has led them to have a huge slice of the fund in the US, with close to 90% of the fund invested there. Given the size of this stake, only a few other countries are represented, and most strikingly an off-benchmark position in mainland China.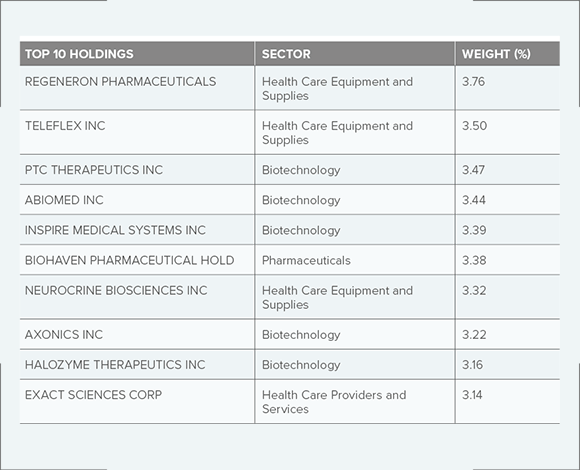 Other than the absence of pharmaceutical majors in the top 10, the other notable characteristic is that the stocks are from across the market-cap spectrum with large small-caps through to large-caps. This reinforces that managers' notion that best opportunities for innovation come from the mid-cap space.
SOURCE: HSBC Asset Management as at 31 August 2021. Reference Benchmark: 100% MSCI World Healthcare Index (USD)
Fund Manager Hot Seat

---
Key risks:
Capital loss risk: It is important to remember that the value of investments and any income from them can go down as well as up and is not guaranteed.
Equity risk: Funds that invest in securities listed on a stock exchange or market could be affected by general changes in the stock market. The value of investments can go down as well as up due to equity markets movements.
Discretionary management risk: Discretionary management is based on anticipating the evolution of different markets and securities. There is a risk that the fund will not be invested at any time in the most efficient markets and securities.
Foreign Exchange risk: Where overseas investments are held, the rate of exchange of the currency may cause the value to go down as well as up. Variations in exchange rates between currencies can have a significant impact on the performance of the products presented.
Small & Mid cap risk: Please note that the fund is invested in securities issued by companies which, due to their small or mid-market capitalization, are less liquid and may present higher risks.
Important information
This document is only intended for professional investors as defined by MIFID, in Switzerland by HSBC Asset Management (Switzerland) AG and is only intended for qualified investors in the meaning of Art. 10 para 3 of the Federal Collective Investment Schemes Act (CISA). All non-authorised reproduction or use of this commentary and analysis will be the responsibility of the user and will be likely to lead to legal proceedings. This document has no contractual value and is not by any means intended as a solicitation, nor an investment advice for the purchase or sale of any financial instrument in any jurisdiction in which such an offer is not lawful. The commentary and analysis presented in this document reflect the opinion of HSBC Asset Management on the markets, according to the information available to date. They do not constitute any kind of commitment from HSBC Asset Management (France). Consequently, HSBC Asset Management will not be held responsible for any investment or disinvestment decision taken on the basis of the commentary and/or analysis in this document.
If necessary, investors can refer to the complaints handling charter available in the banner of our website.
Please note that the distribution of the product can stop at any time by decision of the management company.
Tax treatment depends on the individual circumstances of each client and may be subject to change in the future. Capital is not guaranteed. It is important to remember that the value of investments and any income from them can go down as well as up and is not guaranteed.
Past performance is no guarantee of future returns. Future returns will depend inter alia on market developments, the fund manager's skill, the fund's level risk and management costs and if applicable subscription and redemption costs. The return, the value of money invested in the fund may become negative as a result of price losses and currency fluctuations. There is no guarantee that all of your invested capital can be redeemed. Unless stated otherwise, inflation is not taken into account.
Synthetic Risk and Reward Indicator (SRRI): 6 out of 7. Do not run any unnecessary risk. Read the Key Investor Information Document. The fund invests in instruments of high level of volatility. The value of investments can go up as well as down. The rating is based on price volatility over the last five years, and is an indicator of absolute risk. Historical data may not be a reliable indication for the future. The scale varies from 1 (least risky) to 7 (most risky). The rating is not guaranteed to remain unchanged and the categorisation may shift over time. The lowest rating does not mean a risk-free investment. Do not run any unnecessary risk. Read the Key Investor Information Document.
Important information for Luxembourg investors: HSBC entities in Luxembourg are regulated and authorised by the Commission de Surveillance du Secteur Financier (CSSF).
Important information for Swiss investors: This document may be distributed in Switzerland only to qualified investors according to Art. 10 para 3, 3bis and 3ter CISA. The presented fund is authorised for distribution in Switzerland in the meaning of Art. 120 CISA. (Potential) investors are kindly asked to consult the latest issued Key Investor Information Document (KIID), prospectus, articles of incorporation and the (semi-)annual report of the fund which may be obtained free of charge at the head office of the representative: HSBC Asset Management (Switzerland) AG, Gartenstrasse26, P.O. Box, CH-8002 Zurich. Paying agent in Switzerland: HSBC Private Bank (Suisse) SA, Quai des Bergues9-17, P.O Box 2888, CH-1211 Genève 1.
HSBC GIF Global Equity Sustainable Healthcare is a sub fund of HSBC Global Investment Funds, a Luxemburg domiciled SICAV. Before subscription, investors should refer to Key Investor Document (KIID) of the fund as well as its complete prospectus. For more detailed information on the risks associated with this fund, investors should refer to the complete prospectus of the fund. The shares of HSBC Global Investment Funds have not been and will not be offered for sale or sold in the United States of America, its territories or possessions and all areas subject to its jurisdiction, or to United States Persons.
Any forecast, projection or target where provided is indicative only and is not guaranteed in any way.
Allocation is as at the date indicated, may not represent current or future allocation and is subject to change without prior notice.
These examples are historical and contains information that is not current and should not be construed as an advice, an offer to sell or solicitation of an offer to purchase or subscribe to any investment.
Swing pricing and Gates: Yes.
"Swing pricing" is a price adjustment mechanism intended to protect the unitholders, or shareholders, of a collective investment undertaking (UCI) against the transaction costs borne by this UCI due to new subscriptions or new buyouts. These transaction costs include, but are not limited to, broker commissions (for equities), the spread between the bid and ask prices (for interest rate products), taxes on financial transactions, fees transactions taken by the depositary, etc.

The fund has a redemption threshold (gate), the level at which the manager of an undertaking for collective investment in transferable securities can stagger the redemption of securities instead of proceeding immediately.
Article 8 SFDR =The product promotes environmental or social characteristics, or a combination of those characteristics, provided that the companies in which the investments are made follow good governance practices even if this is not its central point, or the central point of the investment process.
More information on our 'Responsible Investment' Policy and 'Implementation Procedures' can be found on our website. The decision to invest in the promoted fund should take into account all the characteristics or objectives of the promoted fund as described in its prospectus.
HSBC Asset Management is the brand name for the asset management business of HSBC Group. The above document has been produced by HSBC Asset Management (France) and has been approved for distribution/issue by the following entities:
HSBC Asset Management (France) - 421 345 489 RCS Nanterre. Portfolio management company authorised by the French regulatory authority AMF (no. GP99026) with capital of 8.050.320 euro, in Italy, Spain and Sweden through the Milan, Madrid and Stockholm branches of HSBC Asset Management (France), regulated respectively by Banca d'Italia and Commissione Nazionale per le Società e la Borsa (Consob) in Italy, the Comisión Nacional del Mercado de Valores (CNMV) in Spain and the Swedish Financial Supervisory Authority (Finansinspektionen) in Sweden. Offices: HSBC Asset Management (France)
Immeuble Coeur Défense - 110, esplanade du Général Charles de Gaulle - 92400 Courbevoie - La Défense 4 – France.
(Website: www.assetmanagement.hsbc.com/fr).
HSBC Asset Management (Switzerland) AG: Gartenstrasse 26, P.O. Box, CH-8002 Zurich. Paying agent: HSBC Private Bank (Suisse) S.A., Quai des Bergues 9-17, P. O. Box 2888, CH-1211 Geneva 1 In respect of the units distributed in Switzerland, the competent courts shall have exclusive venue at the registered office of the Representative in Switzerland. The official documents as per Art. 13a CISO as well as the (Semi-)Annual Report of the Fund may be obtained free of charge at the office of the Representative in Switzerland.
(Website: www.assetmanagement.hsbc.com/ch)
Non contractual document
Copyright : All rights reserved © HSBC Asset Management (France), 2021.